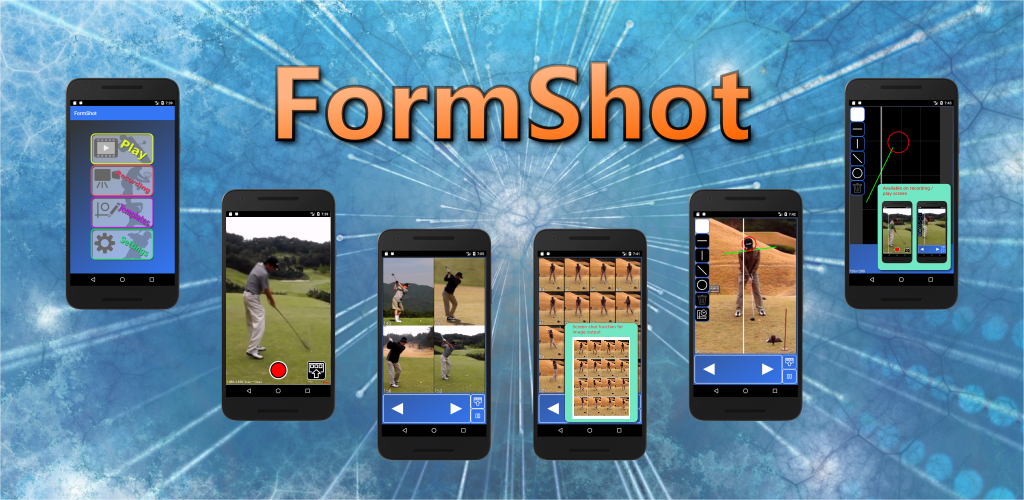 app formshot
About software
FormShot is an application that allows you to shoot and check golf swings and throwing forms.
You can play and compare up to 4 screens simultaneously.
In playback mode, playback is possible in units of frames or in continuous form.
Since the trimming is performed automatically during recording, the form can be checked immediately.
Main menu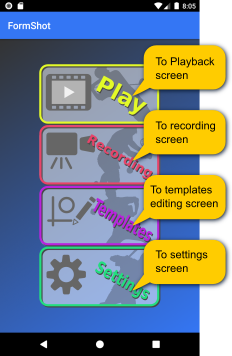 Recording screen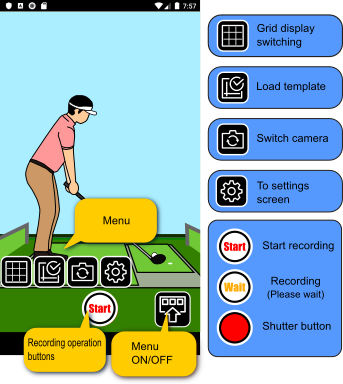 FormShot records video and audio for a few seconds before and after pressing the shutter button.
Example: Shooting a golf swing.
By pressing the shutter button when the ball is shot, you can record a few seconds before and after the shot.
| | | |
| --- | --- | --- |
| Start recording with Start | Wait Recording | |
| Press the shutter button when shooting | Wait Recording | |
| Video, creating | To repeat recording | |
Edit template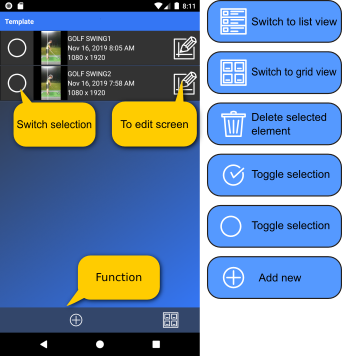 Playback screen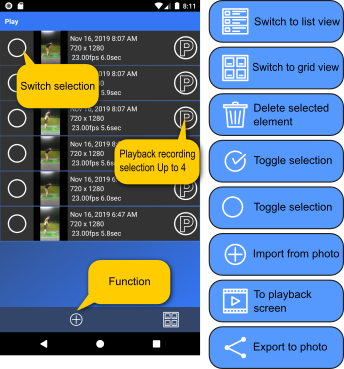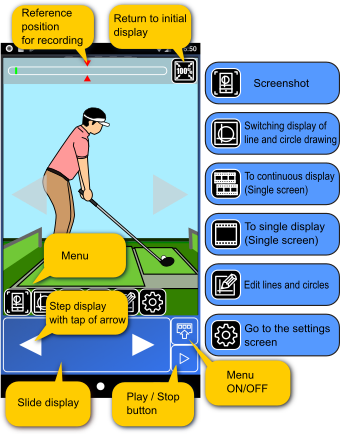 Slide display
Multiple screens are displayed in synchronization.
The screen selected by tapping is displayed alone.
Operation by gesture
You can switch between multi-screen display and single-screen display by double-tapping the screen.
Pinch out and zoom in and out.
Move with two-finger scroll.
Settings screen
| | | |
| --- | --- | --- |
| | | |
Recording range
Save seconds(Before)
Number of seconds to save before pressing the shutter button.
Save seconds(After)
Number of seconds to save after pressing the shutter button.
Camera resolution
Camera position
Set the camera device (front or back) to be used for shooting.
Back camera resolution
Set the resolution of the back camera.
Front camera resolution
Set the resolution of the front camera.
Screenshot
Output size
Set the output image size when a screenshot is output during playback.
Background color
Set the background color when outputting.
Margin specification
Set the margin width when outputting.
Sequence photo
Number of frames
Set the number of screen divisions for continuous photos. (The number of divisions is adjusted to increase the display range.)
Number of steps
Set the value between frames in a continuous photo.
Other
About this application
Display the application information screen.
Change GDPR
If applicable to EU General Data Protection, you can change the settings for displaying ads.
You can switch GDPR from the settings to everyone in the area that falls under EU general data protection.

Change log

09/30/2023

Android13 compatible.

 V1.20

09/29/2020

Android11 compatible.

 V1.10

12/09/2019

Android version release. V1.00